Daily Card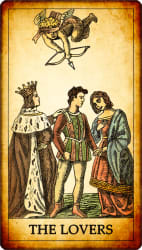 The lovers' card represents couples. Loving couples, business partners, friends or siblings. The angel that can be seen between man and woman represents the indecision to choose between what the heart says and what reason says. Man and woman represent choices that must be made to move forward. These choices are also how to handle our emotions, indecisions, doubts and fear of making mistakes in our decisions. This card represents uncertainty.
Are you looking for more guidance? Click
here
to talk to a trusted psychic.
Light up your day by reading your daily tarot card! Get guidance on what destiny has in store for you today.